The City of God
Saint Joseph's Hill of Hope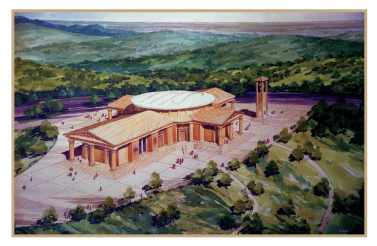 Preliminary Rendering of the Basilica from 1972
Through The Miracle of Saint Joseph, God expressed His desire for people of all races, colors and creeds to benefit from the City of God, Saint Joseph's Hill of Hope. Designed by Heaven, the City was intended as a place of tremendous beauty, hope and peace for people throughout the world to visit, to gain the spiritual strength to live according to God's Will.
Many Revelations from the early 1970s described the City of God in detail. This magnificent project was to include a beautiful Basilica dedicated to The Holy Trinity with a place of honor for Saint Joseph, a Chapel to Our Heavenly Mother, and a Chapel to All Saints; along with a hospital and medical research center, home for the elderly, retreat house, amphitheater, monastery, convent, shrines, gardens, and much more.
In 1972, volunteers worked alongside Mother Frances to raise funds for the down payment on a parcel of land in Brea, California, to build the City of God, Saint Joseph's Hill of Hope. Through the action of Mother Frances and many dedicated volunteers who participated in a series of fundraising projects, the remaining land payments were completed in ten years, per the purchase agreement.
Through The Miracle, God The Father generously invited mankind to partake in the building of His City, and His timeline was very specific. Many obstacles prevented the City of God from coming to fruition, including the dramatic rise of secularism in government entities and society as a whole. It was a time of great upheaval within the Roman Catholic Church and other institutions, and too few people came forward to offer their time, talents or means to support the City of God.
Even so, Mother Frances persevered to make The Miracle of Saint Joseph known so that people everywhere would realize the importance of their Souls and the path to Sainthood. The volunteers focused their attention on the publication and distribution of the Revelations delivered through The Miracle, and that work continues to this day. Saint Joseph's Hill of Hope remains the center of daily operations supporting the preservation and publication of the Revelations, both online and in print.
Perhaps one day in the future, the world will see the beautiful City of God. Nevertheless, the Sound Teaching and Sound Direction given through The Miracle of Saint Joseph will benefit people everywhere for generations to come.