Ordering Books
STORIES FROM HEAVEN® through The Miracle of Saint Joseph

TEACHING DELIVERED THROUGH FRANCES M. KLUG ON JUNE 15, 1994
"STORIES FROM HEAVEN"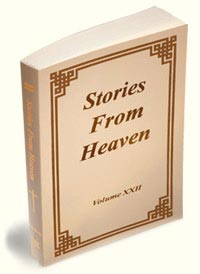 "Stories From Heaven have to reach millions of people throughout the world, and it is our responsibility to see that it is done NOW.
The word possible is oftentimes used as a copout based on the lame excuses inherent in human nature, but logic overrides the human excuses and says GOD MEANS NOW.
The great need for Truth to reach all races, all colors, all creeds throughout the world, is evidenced by the lack of sound moral standards and sound moral values in all corners of the world.
Praising God has become virtually a way of profiteering, based on the greed and lust for money, using evangelization, control methods, false miracles, dramatics, emotionalism, and even sometimes a clerical garb, to attract the millions of people who innately want to know more about God, and find out what He wants of them.
People are not receiving truths, but are being pushed, shoved, and controlled by individuals, who are using religion as a weapon instead of a love for God, a desire to do His Will, and there is a void of real direction to Him.
The STORIES FROM HEAVEN are a catalyst of what everyone needs in this time of so much demonic intervention.
Allow people to read for themselves, Truths, Logic, Sound Direction, so simply structured, that there is no need to have it explained by a highly educated theologian and/or archivist of religion."

New Releases




Learn more about the Miracle of Saint Joseph in these NEW recently published Volumes. In these New Volumes (Volumes XX through XLVII) you can read the latest important "Messages" that are continuing to come direct from Heaven.




Donation of $50.00 for Volumes I, V and VIII.




Donation of $25.00 for Volumes II, IV, VI and VII.




Donation of $15.00 for all other Volumes.




Each book add $4.00 S&H

Many of the thousands and thousands of Revelations and Teachings have been compiled in a Thirty Five volume set of books entitled "Stories From Heaven". Each volume stands alone and can be appreciated individually. You can purchase one book or any number. These Revelations have been received through the Miracle of Saint Joseph since July, 1967.
Any one book can help make you a Saint.
Sold individually or as a fortyseven Volume Set.
STORIES FROM HEAVEN™

Comments From Readers
"I read Volume I of the "Stories From Heaven" and have just began Volume II. I am thrilled to have been given this information."


M.C., New Florence, PA




"I have been using these books to cure my spiritual hunger. They have also helped me in conducting retreats and seminars on various topics."


Rev. N.R. Tanzania, Africa




"I find "Stories From Heaven" to be very spiritually uplifting and rewarding..."


B.A., Lahaina, Hawaii




"I continue to completely enjoy the Messages in "Stories From Heaven" and I use it as part of my night prayers."


H.P., Grand Rapids, MI




"When I am reading them I feel like God is talking to me and I feel happy.


C.D.C., Palm Springs,CA




"These books have been a great help in my homilies and teachings."


Chaplain G.G.,Texas





Ordering Books
To Order By Mail

"Stories From Heaven"
Saint Joseph's Hill Of Hope;
P.O. Box 1055
Brea, California 92822


Please send us your Name, Address, City, State, Country, Zip Code, Telephone Number, the items and quantity you wish to order. Please include shipping and handling with payment.